Data Analysis & Probability: Pictographs - Practice the Skill 2 - PC Software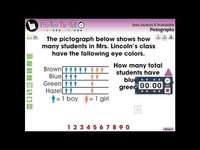 Attributes
Add To Collection
About This Product
Data Analysis & Probability: Pictographs - Practice the Skill 2 - PC Software
An exceptional teaching resource particularly designed for educators, tailored to assist in teaching the concept of Data Analysis and Probability using pictographs. An innovative way to engage students with real-time practice and skill-building activities.
This software incorporates exercises that prompt students to answer specific questions based on a given pictograph. Subsequently, it assists young learners in understanding vital math concepts such as graphing and probability through hands-on experience and visual learning aids.
Multilingual: This tool offers content in both English and Spanish, increasing its accessibility across diverse classrooms or homeschool settings.
Inclusive Math Tools: Enhanced computational skills among students while working on these activities are promised by this software's included math tools.
Standards Respecting:The software aligns with Common Core State Standards making it not only suitable for regular classrooms but also prepares children for standardised state tests. Following NCTM guidelines ensures quality education inline with global standards.
The entire package comes enclosed within a single zip file which contains PC software that's easy-to-use — allowing users hassle-free access wherever they want it implemented; comprehensive studies or individual homework tasks or even tutoring smaller groups separately are all catered for effectively.
All said and done, This interactive asset promises not just impactful learning outcomes among youngsters but also affords educators an effective means of delivering math lessons in an engaging manner without straying from curriculum norms.
What's Included
1 zip file with PC software
Resource Tags
digital math
digital graphs
pictographs
math lesson
math skills
you may also like...
Check out these other great products