Data Analysis & Probability: Probability - Practice the Skill 1 - MAC Software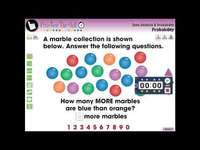 Attributes
Add To Collection
About This Product
Data Analysis & Probability: Probability - Practice the Skill 1 - MAC Software
This educational resource is a valuable tool for educators seeking to strengthen understanding of probability within data analysis. It's designed specifically for use on MAC systems and is particularly suitable for early education environments such as preschool, kindergarten and elementary grades 1 and 2.
---
Main Features:
An interactive mini-chapter composed of timed drill activities suitable for young math learners' practice.
Aidful built-in math tools that facilitate smooth navigation and enhance learning experience.
Multilingual function offering both English default voiceover and text alongside Spanish voice over options.
Note:
This bilingual feature makes it consequently user-friendly even in bilingual classrooms or where English may be a second language.
---
The software rigorously adheres to CCSS, STEM initiatives, and NCTM guidelines thus aligning students' learning with key mathematical competencies such as data analysis and probability patterns.
This tool can effectively integrate into teacher-led instruction session or serve as homework assignments. It offers practical insight on mathematical concepts while also allowing teachers to monitor progress effectively.
Included Materials:
A single zip file containing all necessary software materials ensuring hassle-free download with minimal set up required on any MAC operating system used by either teachers or homeschoolers alike.
What's Included
1 zip file with MAC software
Resource Tags
probability lesson plan
math skills
digital math
data
analysis
you may also like...
Check out these other great products