Data Analysis & Probability: Tally Charts - Learn the Skill - PC Software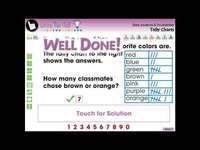 Attributes
Add To Collection
About This Product
Data Analysis & Probability: Tally Charts - Learn the Skill - PC Software
Making abstract mathematical concepts more tangible, this software is crafted specifically for children in preschool through grade 2. It introduces them to the intriguing world of Data Analysis and Probability, with special emphasis on Tally Charts. The learning materials are flexible and can be personalized heeding to different teaching styles and scenarios.
The software endeavors to simplify data analysis for younger students by supplementing relevant real-world problems.
It equips math tools that are adaptable suiting every teaching style which consequently enhances a learner's competencies in math comprehension.
In an effort to promote inclusivity, it extends Spanish voice over and text options beyond its English narrative thus enabling access across diversities.
Important Keynote: This software aligns with standard educational regulations such as Common Core State Standards and NCTM principles making it highly resourceful within prevailing curriculum structures. Notably, it agrees with STEM initiatives endorsing knowledge integration rather than solely relying on rote recall aligned within specific subjects.
All content comes packed into one zip file minimizing complexity associated with technology thereby saving time for educators who often have much on their plate already without worrying about overly complex tech requirements.
In a nutshell, no matter if this software is used as supplemental homework or starter activity for lesson plans or even for evaluation objectives; It proves itself as an essential tool instilling the importance of understanding Data Analysis & Probability among students.
What's Included
1 zip file with PC software
Resource Tags
math lesson plan
digital math
digital lessons
tally charts
probability
you may also like...
Check out these other great products