Data Analysis & Probability: Tally Charts - MAC Software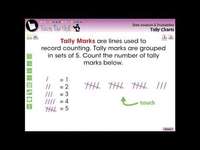 Attributes
Add To Collection
About This Product
Data Analysis & Probability: Tally Charts - MAC Software is an educational tool specifically crafted for educators in the domain of Data Analysis and Probability. The key focus area of the tool revolves around tally charts, an indispensable aspect of data interpretation and statistical thinking.
The offering comes as a 'chapter mini' that proffers content aligned to curriculum specifications. It kickstarts with a 'pre-assessment feature', thereby enabling teachers to gauge their students' pre-existing knowledge base before embarking on new lessons. Following this, there is a well-designed lesson plan that prescribes an effective pedagogical sequence to impart knowledge about tally charts.
A salient advantage here lies in its relevance rendered through real-world word problems ingrained into the software, which stimulates students' curiosity by correlating mathematical concepts with practical scenarios they can relate to.
In addition, timed drill activities are encompassed for an immersive interactive learning experience while ensuring concept consolidation.
Educators also benefit by availing of several mathematical tools made available in the software designed to amplify visualization and explanation of ideas related to tally charting efficiently. Complementing these are printables that can serve as physical classroom aids or be deployed as homework for at-home reinforcement tasks.
A standout feature in this digital resource is the incorporation of games such as memory match game, board game, and spinner game—introducing fun into learning while reinforcing educational learnings pursued through pattern recognition even off-class hours.
This package also includes resources aimed at assessing progress: a teacher guide for reference during instruction and SMART Response assessments post each chapter completion which ensures objective feedback about each student's understanding against core topics.
The software flaunts bilingual capabilities via its Spanish voice-over variant besides English default text-to-speech, thus equipping bilingual education facilitators with the means to efficiently introduce Tally Charts into both English and Spanish environments.
The teacher-aid comes in a MAC compatible .zip file format targeting grades Preschool through Grade 2 under the Math-Patterns category enabling teachings conducted across group sizes ranging from a whole class to small groups.
What's Included
1 zip file with MAC software
Resource Tags
digital math
math skills
tally charts
data
probability
you may also like...
Check out these other great products