Number & Operations: Decimals - Addition & Subtraction - Practice the Skill 3 - PC Software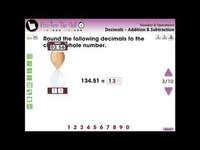 Attributes
Add To Collection
About This Product
Number & Operations: Decimals - Addition & Subtraction - Practice the Skill 3 PC Software
This educational resource is designed to strengthen the understanding of adding and subtracting decimals among students. This essential part of Number and Operations is covered comprehensively, integrating curriculum-based content with timed drills.
Key Features:
The 'practice the skill' feature fosters regular reinforcement through active learning.
Decimal-related problems for practical application provide scope for rounding off decimals.
Dual language support in English and Spanish facilitates bilingual proficiency and caters to varied learning requirements.
A complete package that includes math tools within the software itself enhances hands-on exploration over theory-based learning for students.
This software supports various teaching structures, such as whole classroom or small study group instructions, while enabling individual assignments targeted at specific skills like addition or subtraction.
Educational Standards:
This product effectively aligns with Common Core State Standards and STEM initiatives standards
The content adheres strictly to NCTM norms

Last but not least, this highly compatible PC software comes innovatively packed inside a single zip file - ensuring an easy implementation process!

Focused Learning

Tailored strategically around 3rd, 4th,and 5th grade level students, this mathematical aid fosters strong foundational skills in decimal operations through a simple approach.

Pedagogical Approach




The Number & Operations: Decimals-Addition & Subtraction-Practice the Skill 3 PC Software is crafted keeping holistic pedagogy in mind. Its aim is bridging learning gaps while providing educators an efficient teaching resource that ensures consistent mathematical skill growth among young learners.
What's Included
1 zip file with PC software
Resource Tags
decimals lesson plan
adding decimals
subtracting decimals
operations
math skills
you may also like...
Check out these other great products