Number & Operations: Decimals - Addition & Subtraction - Learn the Skill - PC Software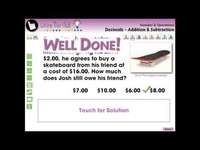 Attributes
Add To Collection
About This Product
Number & Operations: Decimals - Addition & Subtraction - Learn the Skill - PC Software
A comprehensive and detailed teaching resource specifically designed to aid educators in imparting knowledge about adding and subtracting decimals. This useful resource can serve as a vital tool for teachers in public schools, homeschoolers, or any education-oriented setting looking to enrich their mathematics curriculum.
Product Focus
This significant software focuses on enhancing students' understanding of Number and Operations for grades 3-5 with an emphasis on decimals, addition, and subtraction. It provides an intelligible layout of curriculum-based content representing real-world word problems to stimulate students' decision-making skills.
Tools and Features
The notable aspect of this product lies in its simplicity while fostering a deep understanding of the subject matter.
Features math tools that facilitate thorough engagement with mathematical concepts at this level.
Ideal tool that could be used during whole group instruction due to its extensive coverage or even small group instruction facilitating more targeted learning.
Multilingual Features
The software incorporates English voice over alongside text while also including Spanish voice over plus text options. This accommodates diverse learners by encouraging multilingual exposure and culture-sensitive pedagogy which broadens their scope in terms of language fluency.
Educational Standards Alignment
The content fully adheres to Common Core State Standards whilst supporting STEM initiatives. Additionally, aligns perfectly with NCTM standards rendering it invaluable for any up-to-date educator striving for excellence in instruction delivery by adhering strictly to set educational guidelines.
- Downloadable Zip File:
Enclosed within one zip file that is easily downloadable onto your PC makes accessibility straightforward. - Lesson Plans Integration: Educators can conveniently introduce this into lesson plans thereby making learning engaging, interactive yet meaningful for learners whether it serves as homework assignments or as a featured topic during classwork sessions contributing towards creating well-rounded thinkers prepared for tasks outside theoretical setups; hence fostering academic growth and progress substantively.
Integrating Number & Operations: Decimals - Addition & Subtraction - Learn the Skill - PC Software into your teaching repertoire indeed promises to be an insightful choice that brings life to decimal addition and subtraction while reinforcing number operation skills.
What's Included
1 zip file with PC software
Resource Tags
math skills
math lesson plan
decimals
subtracting decimals
operations
you may also like...
Check out these other great products