Special Resources > Life Skills | Kindergarten, Grade 1, 2, 3, 4, 5 | Worksheets
Social Skills Story | School's Out! It's Time Okay Move On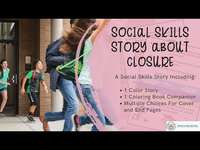 Attributes
Add To Collection
About This Product
Many children with special needs struggle to move on from things. The changes that occur when ending the school year can be very difficult for these children. Some will need teaching and support to understand that it is okay to move on.
What's Included
Included Please Find 42 Pages:
> Detailed Instructions
> Story Cover Choices
> Story
> Story End Page Choices
> Coloring Book Companion
Resource Tags
Social Story
Closure
SEL
Social Skills
you may also like...
Check out these other great products